Category:
Sheet Metal Fabrication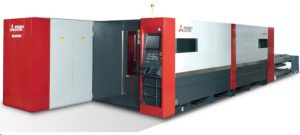 Bassett is proud to announce its acquisition of one of the first 8kw 4 meter x 2 meter fiber sheet lasers in the US. Bassett's purchase of the new fiber laser affords speeds up to 4-5 times as fast as conventional CO2 lasers, as well as being able to cut metals such as aluminum, copper, and brass. In addition, nitrogen cutting can eliminate oxide edges on parts that have to be painted, thus eliminating secondary operations and guaranteeing excellent paint adhesion.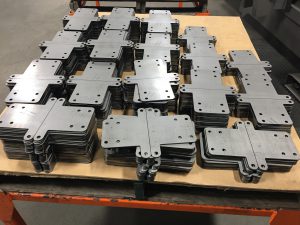 Coupled with our automated material handling system we can produce quality parts at very competitive prices with on time delivery. The ML4020-F80 Fiber allows Bassett engineers to work with our industry partners to quickly and cost effectively process large or small batch production without the need for dedicated, secondary operations and costly tooling.

Contact a Bassett rep today to learn more about our new and expanded capabilities of the ML4020-F80 Fiber along with our other fabrication specialties. Contact us at 1-800-776-6440 or
With the installation of a new 350 ton CNC press brake, Bassett has the ability to bring your most complex sheet metal parts to reality! With a large inventory of precision tooling including segmented dies we can offer to form sheet metal parts that range from 14' in length to small complex box style products with numerous bends. The addition of a 7 axis back gauge provides for holding tight tolerances and consistently accurate parts.
 Bassett has also invested in state of the art 3D modeling and simulation software to determine feasibility of all parts prior to production runs. The use of the latest CAD and CAM software, including SolidWorks 7.0, Sigmanest, AutoCad , etc. , allows us to import your files from almost any CAD software, create efficient nesting off our multiple sheet lasers or waterjet to speed delivery and reduce cost.  This results in an accurate approach to save our customers any unnecessary costs.  In addition to software, Bassett's engineering staff can work closely with your team to develop products, create custom tooling if needed, and add our years of knowledge and advice to help stream line your ideas to result in complete satisfaction of your products.
Contact Bassett Industries today to speak with a customer representative to learn more about our capabilities with Tube and Sheet Laser Fabrication, Machining, Robotic Welding, as well as many secondary value added processes.