Bassett Industries is pleased to announce the addition of waterjet cutting services to its already expansive list of manufacturing capabilities.  The addition of waterjet cutting allows us to expand our engineering expertise to a wider variety of materials, increase production, and provide additional services to satisfy the demands of our clients.
Waterjet capabilities include cutting sizes up to 275 in. long x 120 in. wide, with thickness up to12 in., pressure up to 90,000 psi and tolerances to +/-0.003 in. Dual dynamic head capabilities for lower costs, larger volumes and quicker turnaround. Parts in steel, aluminum, glass, stainless, copper, brass, marble, titanium, bronze, etc.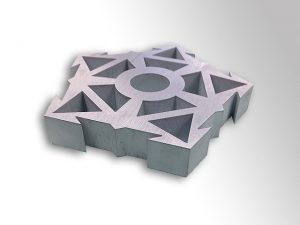 No heat affected zone, burr free cutting in an ISO9001 facility with additional services of sheet and tube laser cutting to 8.5″ dia, CNC tube bending and rolling to 8″ dia, MIG, TIG & robotic welding, press brakes to 350 ton x14 ft, CNC mills to 120″ travel and CNC lathes with multi heads and live tooling. Industries served include agriculture, health care, construction, job shops, laboratory equipment, marine, military, semiconductor and signage.
Reverse engineering, CAD services and 24 hr service available.