It is amazing to see the advancements in tube bending and cutting technologies in just ten or eleven years. The old process Bassett used on our U-Tubes in 1999 was to saw, cut, bend and drill in separate processes. We even had to outsource the drilling process to a local shop. This process alone had a one to two week turnaround.
Now Bassett has a state-of-the-art Tube Laser. Before we had 4 operations, this is now reduced to only two. Since we brought the tube laser online we have learned through various trials to get the highest efficiencies out of the production and minimize operations. We are now selling the U-Tube 10% cheaper than we were in 1999. This technology has completely changed the way we operate as an organization and streamlined our processes and efficiencies for many projects.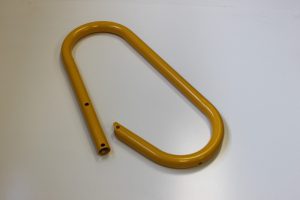 By leveraging new technologies which help eliminate outsourced operations, we have more control and know exactly where the parts are. This alone reduces lead times significantly. New technologies provide our customers with far more accuracy. This in turn, creates more flexibility. As an example, if there are small changes from the customer such as hole-size or location, we just reprogram that area and the revisions take very little time to implement. We can turnaround prototypes and projects in a very short amount of time. If tubular parts are eventually welded into an assembly, we can cut the parts so they have interlocking features which act as a self contained weld fixture, further eliminating additional tooling costs along with their associated lead-times.
We will work with the customer to optimize the part using the technology of the tube laser or any of our other state-of-the-art equipment. This typically leads to cost savings due to reduced production time, operations and material waste. We do this across the board in all our areas manufacturing areas, but the most dramatic cost savings continue to be with the tube laser.
The best advice is to let Bassett be involved in the design phase or show us parts you would like to reduce costs on. We may be able to offer a cost cutting option you might not have previously considered. In fact we have a medical parts customer who designs most of their parts solely around the capabilities of our tube laser.
Doug Fox
Bassett Industries Inc.